Training physicians in the North, for the North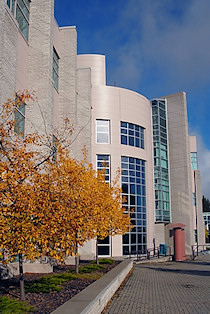 Northern and rural areas often face a critical shortage of physicians and health care professionals and the Northern medical program (NMP) has been formed to help fill that critical need. The program was created after 7,000 residents of Prince George packed the CN Centre Arena in June 2000 to protest the lack of access to physicians and health care.
In the summer of 2003, the ground was broken at UNBC for the Northern Health Science Centre, named after Dr. Donald Rix. In spring 2004, testing of technology and accreditation took place. The first cohort of 24 students began the program on August 30, 2004 and graduated in May 2008.
The curriculum
The Northern Medical Program delivers the University of British Columbia's (UBC) medical curriculum over a four-year period at the University of Northern British Columbia (UNBC) and the University Hospital of Northern BC (UHNBC). It incorporates the best practices of rural and remote medical education from around the world, providing outstanding classroom and early clinical exposure to rural health care delivery.
Students spend the first semester (August to December) at UBC in Vancouver and then move to the Northern Medical Program in Prince George for the remainder of their education. The first and second years are based primarily at the Dr. Donald Rix Northern Health Sciences Centre at UNBC with experiences in family practice offices and in clinical skills education at UHNBC. Core clinical training (known as clerkships) takes place during third year with the support of physicians who combine patient care with teaching.
Northern Medical Program research
The research program within the Northern Medical Program (NMP) utilizes a multidisciplinary approach to address fundamental questions under the overarching theme of health research. This mission is accomplished through faculty member's individual research programs with a view to improving health outcomes and influence health policy for the betterment of Northern individuals, Canadians and people worldwide.