Northern Health and Interior Health have collaboratively developed innovative models of sharing patient information with electronic medical records. This has been recognized provincially for out of the box thinking.
In 1993, Dr. Bill Clifford, Chief Medical Information Officer with Northern Health, recognized the need for an innovative solution which would distribute electronic copies of patient lab results, medical images and pharmacy document into a provider's electronic medical record (EMR). At that time, physicians and other providers were beginning electronic patient records but were receiving paper copies of patient data which was resulting in inefficiencies in process. Previously, the only way that was used to connect to physician or provider offices was through pieces of paper or fax which then had to manually entered and often scanned. Unless care was taken to enter discrete information from the reports, results were unreportable and couldn't be used for clinical decision support.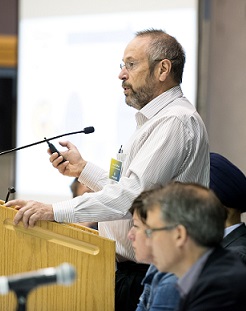 After years of manual entry of information, and much research and investigation of existing solutions, Northern Health partnered with Interior Health to build their own innovative systems to securely deliver clinical messages. The first system in the north, known as the "Clinical Information Exchange" (CIX), was deployed in 2010. It was based on an older but widely used health messaging standard that Interior Health had used in their home grown "Physician Office Information" (POI) system. By 2012, all of the community EMR users in the north were able to receive laboratory results and medical imaging results electronically.
The development of Clinical Document eXchange (CDX) in 2014 was the result of the collaborative efforts between Northern Health and Interior Health as well as strong partnerships with Shared Care, Applied Informatics for Health Society (AIHS) and Northern Partners in Care. CDX is an interface which facilitates the sharing of a broader range of Health Authority clinical documents with individual EMR systems. Not only does this interface send over 12,000 transcribed documents a month, but it also allows direct EMR to EMR exchange of information. Now physicians and providers can send clinical documents to other offices without a paper process. The system was built using a shared provider registry between Interior and Northern Health and uses unique codes to deliver important information contained with documents and results.
CDX provides the ability to meaningfully connect multiple systems. The standards upon which the messages are built are even used in other jurisdictions to exchange clinical information with patient controlled Personal Health Records (PHRs). The benefits of securely exchanging information this way are immense: secure, timely, reduced burden of clinical information entry, huge costs saving with the reduction of paper use, and ability for providers to access results at more than one location while using applications that support their work requirements.
With the success of this system, Northern Health has plans to continue to development to support expanded message types and content. Meanwhile, the vendors of all of the Electronic Medical Record (EMR) products used in the North are being encouraged to adopt the standards and the interface so that eReferral and eConsults and other types of information exchange will be greatly enhanced. Avenues for sharing information with PHRs are being explored.
The success seen through the development of this system is the result of physicians and patients expressing a need, funding being secured from the Health Authorities involved and other parts of the system such as Shared Care, and the Health Authorities developing a collaborative solution.