Our Northern Health (NH) Kidney Care Team is pioneering patient centered model of care by providing opportunity to patients closer to home in northern communities. The team was recently successful and was awarded a grant by Specialist Services Committee (SSC) to build Tele-health services across the kidney program in the north. This quality improvement project is unique in the fact that it is modelled after face-to-face care, provides patient education and involves virtual access to the whole multidisciplinary team during consultation.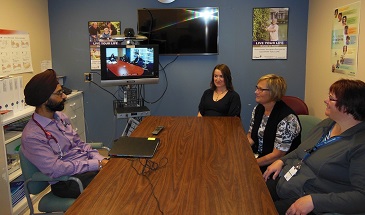 Within Northern Health's vast geographical area, residents in rural and remote communities have limited access to specialist care. The vision of the Kidney Care Team is to address this challenge by regionalizing a team-based telehealth kidney service, investing in technology and providing services closer to home (similar to the face- to face model of care) where patients no longer need to travel long distances to larger centers. The team recognizes that telehealth care will not completely replace face-to-face consultations, but that there is potential to reach more patients in remote communities, including First Nations, and to increase patient engagement with specialist health care services.

The Kidney Care Team (comprised of a physician, nurse, dietician, pharmacist, social worker and unit clerk) are working to keep care delivery relevant and coordinated by partnering with the BC Renal Agency on the development of a provincial template for kidney care via telehealth, collaborating with NH's Chronic Disease department to ensure coordination of team based care, and involving family physicians in primary care homes in the project activities. Also, clinical practice consultant nurses within these communities will act as a liaison between the Kidney Care Team and the patient who will support connecting patients to specialist services closer to home. Additionally, there are goals to partner with the First Nations Health Authority to support their telehealth vision.

Results from this project will analyze patient and provider experiences which will inform the success of telehealth care and will help shape the model to ensure the best patient care is provided. Overall, the expectation is that more patients will be seen and this project will grow and influence a variety of team-based care projects. In the end, the model could be utilized as part of everyday clinical practice in many communities, where increased communication and patient engagement will support patient centered care.
Dr. Singh, a nephrologist on the kidney care team, recalls one patient's experience:
"A new immigrant worker was urgently referred from a remote rural community with very advanced kidney disease. The referral letter stated that he was adamant he was not leaving his community to go and see a specialist. I was able to see him the next day via TeleHealth and after meeting the renal team and receiving education about his condition, he was convinced to come to Prince George on the Northern Health Connections bus for surgery to prepare for dialysis. This gentleman is now doing home dialysis at night and is able to work and earn a living during the day without moving from his community. This is a great example where, connecting via Tele-health, the kidney team was able to alleviate his fears, avoid unnecessary travel and stress but above all, deliver the education about his kidney disease and motivate him for home based dialysis. As a provider this is immensely satisfying as timely intervention to address an urgent clinical and educational need was met to provide the best care for this patient".